August 29 2020 Item Shop Review
First in today featured section of the item shop is the Cyclo skin I don't really like this skin because I just feel that it is too bulky but it definitely looks cool! Next in the featured section is the Dark Glyph glider, Thunder Crash pickaxe and the Dark Bomber skin. I really like all of these items, the Dark Glyph glider is really good in my opinion, the Dark Bomber is really good and sweaty, and the Thunder Crash pickaxe looks cool. The last items in the featured section of the item shop is the Moxie skin, Clobber pickaxe, and the Faded cool wrap. I like the Moxie skin I think that it deserves more attention because it is actually a really good skin, the Clobber Axe is okay, I just don't really like the look of it I think it doesn't look right, and the Faded Cool wrap is just plain boring.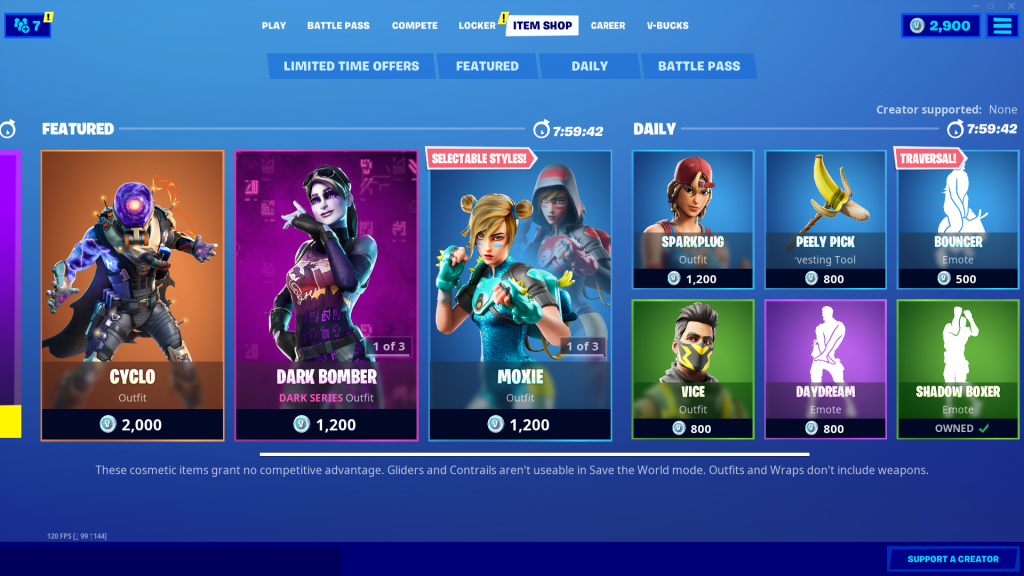 First in today's daily section of the item shop is the Sparkplug skin I really like this skin and I would buy it next time I have vbucks. The next skin in today's item shop is the Vice skin, I don't like this skin its very plain and boring. Also in the daily section is the Peely Pick I think that this pickaxe is just hilarious and is just an overall meme. The emotes in today's item shop is Daydream which is okay but the music of the emote is actually good, the shadow boxer emote which is horrible because it doesn't even have any music with it, and the Bouncer emote which is really funny and really good.