Week 7 Fortnite Challenge Guide
Every week new challenges are released in fortnite so with this guide you will get your challenges done in no time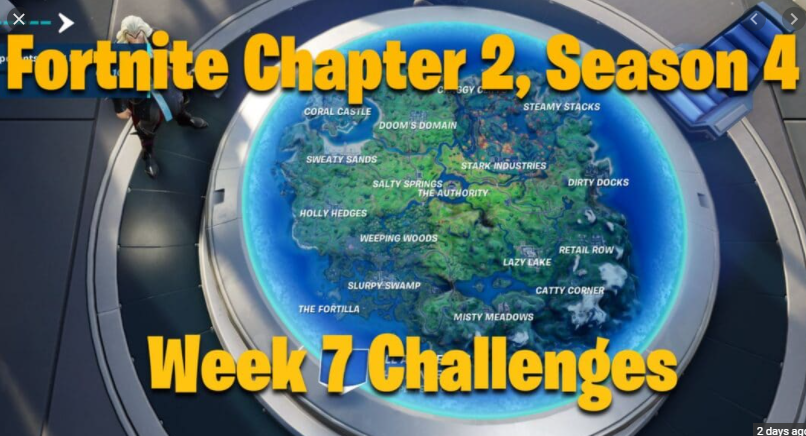 Enter the vault at Doom's Domain. For this challenge land at Doom's Domain and try to kill Doctor Doom. Once you do go open the vault and just go inside of it. Once you do your challenge id finished/
Discover Tony Stark's Hidden Laboratory. For this challenge land at the house the the east of the lake at Stark Industries. Once you do go inside and break the floor under you once you do you will see the laboratory and your challenge is finished.
Eliminations at Craggy Cliffs (3) for this challenge just land at Craggy Cliffs and try killing as many opponents as you can
Search chests at Catty Corner (7) For this challenge land at Catty Corner and just search as many chests as you can. I recommend landing at the big building because there is usually about 3 chests inside of it.
Drive a car from Sweaty Sands to Misty Meadows in less than 4 mins. For this challenge land at the gas station at Sweaty Sands. Then fill up the fuel to 100%, once you do take the main road and try driving as fast as you can to Misty Meadows.
Destroy cobwebs at the Authority (3) for this challenge land at the Authority and try finding at least 3 cobwebs once you do break them and if you have gotten all three your challenge is done
Deal damage after knocking an opponent with Storm's Whirlwind Blast (1000) for this challenge go into a superpower game mode once you do if you have Storm's superpower try blowing someone away with it and damage them as much as you can after. If you are playing with your friends and they are trying to complete the same challenge it will help to contribute to finish yours.