Fortnite Item Shop Review August 21 2020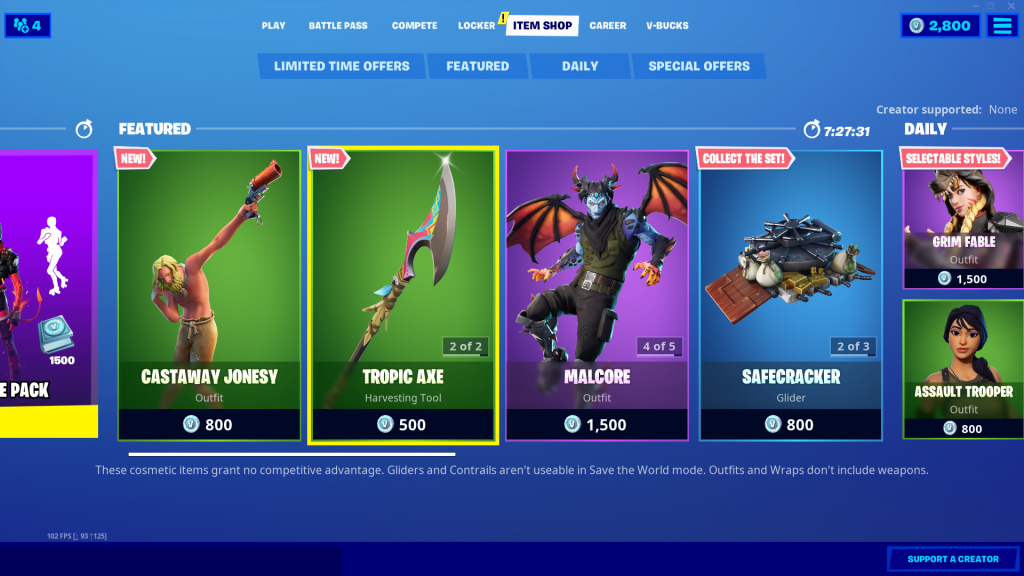 First in today's featured section of the item shop is the new Castaway Jonesy skin. This new skin is okay, but I just think it looks a little boring. Also a new skin in the featured section is the Kalia skin and Tropic Axe pickaxe. I think the Kalia skin is an okay skin but I couldn't see myself wearing it if i did buy her, her pickaxe is the Tropic Axe i also think that this pickaxe is kind of boring but I like that is is unique and that it has a lot of colors. Next in the featured section is the Malcore skin, Ark skin, Virtue pickaxe, Evil Eye pickaxe and Divine wrap. I don't like the Malcore skin I think it looks ugly and I would never buy it. I kind of like the Ark skin but the thing I love most about it is her backbling I personally think that this backbling looks good on everything. Next is the Evil Eye pickaxe I dont like this pickaxe because I think it just looks weird and creepy but its counterpart the Virtue pickaxe is the total opposite and I would want to buy this pickaxe next time I have vbucks, the gold on it with the blue fire on the end makes it look soo clean. The last thing in this group of items is the Divine wrap I really like this wrap because of the white on it with the gold trim. The last things in the Featured section is the Wildcard skin and Diamonds wrap. I'm guessing Fortnite brought this set to the shop because the Getaway LTM is back, I think that the Wildcard skin is good but the reskins of him who are Dark Wildcard and Double Agent Wildcard look way better than him so really I think this as an okay skin, his wrap diamonds has 4 styles and is only 600 vbucks so this is wrap definitely a steal so definitely get it if you have the chance.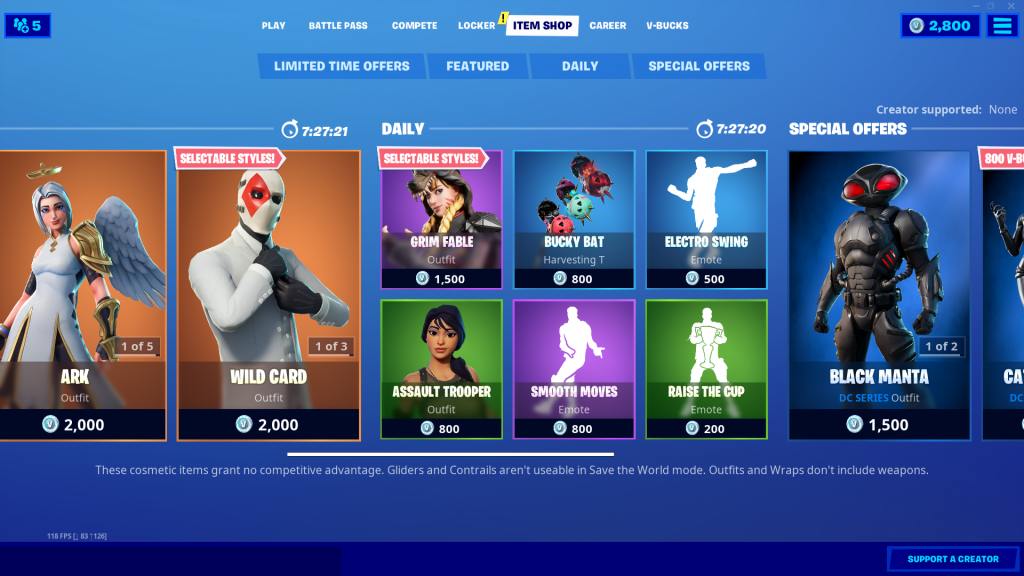 First in today's daily section is the Grim Fable skin i really like this skin and I think it looks cool, and also I think that it looks way better than the normal Fable skin which you could've gotten by tier 47 in the season 6 battlepass. The next skin in the daily section is the Assault Trooper skin, I really like this skin and I think that it is sweaty and you can make a lot of combos with it. The emotes in today's daily section is Smooth Moves which is okay, Electric Swing which is great and Raise the Cup emote which is really good. The last thing in today's daily section is the Bucky Brat pickaxe my opinion has changed about this pickaxe, I really don't like it I think it looks super ugly and it is super bulky.
In today's Special Offers section is the Harley Quinn bundle which consists of the Harley Quinn skin, Harley Hitter pickaxe which is one of my favorite pickaxes, and the Punchline pickaxe which looks okay, this whole bundle costs 2000 vbucks. Also in the Special Offers section is the Catwoman Bundle which consists of the Catwoman skin which is actually kind of ugly, Cats Claws pickaxe which are really boring, and the Whipcrack emote which is okay the bundle costs 1800 vbucks. Another bundle in the Special Offers section is the Batman Gear bundle which consists of the Batglider glider which is actually really cool, Bat signal emote which is good, the Martial Arts Master emote which is just boring, and the Caped Crusader music pack which is pretty good. This whole bundle costs 1500 vbucks. Something new in the Special Offers is the Black Manta skin which is pretty ugly and the Black Manta pickaxe which are okay. Note that you can buy all the items that come in a bundle separately for different prices