Xbox Live Games with Gold for October 2018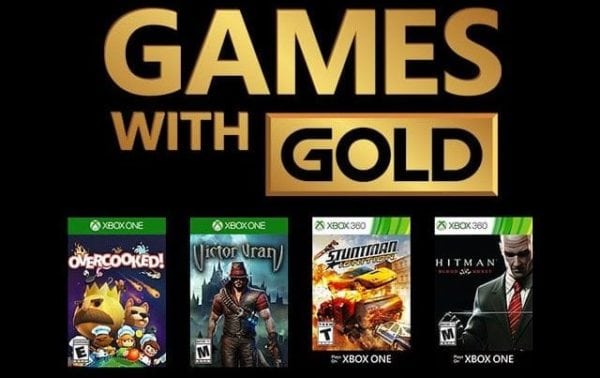 It is now October so of course Microsoft is going to give all of us gold members four free games this month, lets see what these games are. The first Xbox One game for the month is Overcooked which is valued at $16.99, the second Xbox One game that will come out on the 16th of this month is going to be Victor Vran which is valed at $19.99. The first Xbox 360 game we have this month is Stuntman Ignition which is valued at $14.99, and the second game coming out on the 16th of this month is going to be Hitman: Blood Money which is valued at $19.99. This month's total savings with the Games with Gold program comes in just under$72.00.
Now let's talk a little bit about each game.
Overcooked: This game is a chaotic twist on your typical cooking frenzy style game that is rated E for Everyone. In this game you and up to four of your friends go on a cooking adventure through a series of crazy kitchens on a quest to cook up some grub. This seems like a fun game to play when you are looking to destress with the family or friends. This game looks like some good puzzling fun for the whole family. I may download this game just to check out the different crazy kitchens this game advertises.
Victor Vran: Play as Victor Vran the demon hunter is the top viewing side scroller adventure that is rated M for Mature. In this game you will go on a quest, either alone or with friends, to fight the demons you encounter across the land. The different weapons and abilities you can have in this game make it seem like a lot of fun, and the idea that you can team up with your friends makes it even more interesting. I would suggest downloading this one if you are in the mood to kill as many demons as you can. As this game is rated M I do not suggest it for family fun night, but do as you wish!
Stuntman: Ignition: Take on the role of a Hollywood stunt driver in this thrilling driving game that is rated T for teen. Every mission is a fast-paced set of instructions you follow to create an explosive Hollywood racing scene. If you love driving games and you love blowing things up this one is for you. This game is definitely a fun time that will bring you back to 2007 gaming.
Hitman: Blood Money: This is one of the older Hitman games as it was released in 2006, this game is also rated M for mature. Play as Agent 47 in this game and embark on another bloody journey to complete your contracts. If you enjoy a good story but aren't too caught up with the graphics of a game this one is for you. I personally am a stickler for graphics, so you will not be seeing me on this one, but if you are a Hitman series fan go ahead and download it for a good time.
Personally, I think that this month's free games with gold list was not that strong and I will probably end up playing these games once. But they are free, so I cannot complain too much! Hopefully next month will be better so be on the lookout for my next Games with Gold article!