Fortnite Purple Cube? What could it be?
WHATS IN THE BOX?! While that question may hold some value to you in the cinema world lets talk about Fortnite. If you are an avid Fortnite player then I am sure you already know where this is going, the giant purple cube.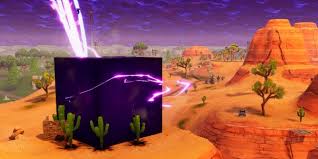 Yes you heard that right the most recent addition to the Fortnite map this season is a giant ( and we really mean giant) purple cube in the Fornite map. With this season of Fortnite being a little bit more then halfway done it should be expected that the games amazing overall storyline would start to pick up, I plan on writing another article when I have time covering every seasons Meta storyline so we are all on the same page. With that being said with this most recent patch lightning began to strike the Fortnite map in what appeared to be 15 minute intervals which had many players wondering what the next addition to the story would be. With the rift closed up does this mean it might open again? What could this mean for the map? Why did Fornite have me collect those thunderbolts? These are all questions everyone would love answered but no one has the answer too.
We do however know one thing, the addition of an interesting purple cube to the map. The lightning bolts seemed to have been focused on the paradise palms portion of the map so it was no surprise that this is where the purple cube is located. Players flocked to this cube for a taste of what it possibly could be and the first thing discovered was that this cube is bouncy! Don't worry that's just the beginning, standing near the cube also will slowly refill the players shield. Bouncing may be fun but it can launch you back if you touch it from the side so be careful of that. The cube also seems to be fashioned with some strange symbols that actually glow as players approach it, I bet this will have some significance in the future (I have a feeling that the visitor is involved with this but maybe I am wrong). This cube seems to be a friendly feature to the map, if you treat it with respect. However, if you shoot the cube it actually retaliates zapping you with electricity and there are even reports it will launch you across the map. Another weird aspect of this cube is that the strange symbols will actually appear on the kill feed if it kills a player (NPC maybe).
The famous streamer Ninja was actually streaming when the cube spawned into existence so be sure to check his channel out to see how this all went down. Its super cool to see it spawn and this will obviously play some sort of huge role into the conclusion of season 5 of fortnite. I have a feeling we have not seen the last of the visitor, and we may see some overlay from season 4. I cannot wait for this story to unfold as the creators really know how to tell a story. What do you think this has to do with this season, how will this play into season 6, what will even happen in season 6? These are all questions we have and if you have any theories I would love to read them in the comment section below. Thanks for reading this and if you enjoyed the article give me a like!