Xbox Live Games With Gold For August 2018
This will be the first article in our installment covering Xbox Lives Games with Gold program. If you are not familiar with this program basically every month Xbox gives their gold members 4 games to play absolutely free and you have access to these games forever, so long as you have a gold membership. These games can range from awesome A1 titles to fun indie games so its always worth checking out. We will be keeping you guys up to date with these titles every month so be sure to check back to find out which games you need to download.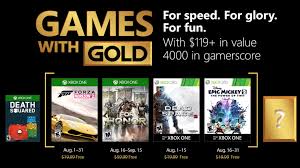 So with that out of the way lets just get into it. This article will cover the games with gold program for August of 2018, and Xbox was very generous to us this month that's for sure!
The two Xbox one games that will be released this month are first Forza Horizon 2, and then later we were given For Honor. Xbox also releases two xbox 360 games that players on the Xbox one are able to download and play. The 360 games for this month are Dead space 3, and Disney's Epic Mickey 2 The power of 2.
Lets talk about Forza Horizon 2, this is an Xbox exclusive title that fans really enjoy. The aesthetics of this game really set it apart from other racing games. You can drive over 200 cars in this Forza and the weather is dynamic. This is also the 10th anniversary edition of this game so its packed with some new limited edition cars that you can be sure to show to your friends in the games online mode! I personally am a Need For Speed racing game type of guy but I have to admit that the beauty of the Forza games is truly unrivaled. If you want to know what it feels like to drive a Ferrari or Lamborghini be sure to download this game.
For Honor was an A1 title that was released in 2017 and still retails for $60.00 so this is quite a steal for a free game. This game is a fast paced melee action combat game where you can play as either a Viking, Samurai, or a knight. This game has a very unique combat system and is very visually appealing. This is another great game of the month from Xbox and I would highly suggest you go and download this one.
The first Xbox 360 game of the month is the third installment in the Dead Space trilogy. If you are into story intensive horror games this one is for you. Journey into the desolate unknown using your characters skills to create new weapons to help you survive. This game has a seamless co-op mode so you can play with or without your friends with the click of a button. If you've played the other 2 Dead Space games but never got around to the 3rd one you might as well download this and try it out. If you are new to the franchise what better way than a free game to test it out.
The second Xbox 360 game of the month is Disney's Epic Mickey 2 The Power of 2. I am going to be honest with you here and let you know that I did not download this one, I played the first one for 10 minutes and I was not into it. This is definitely a family friendly game so if you have kids or if you just love the Disney universe check this game out.
That's all the games for this month, let me know what games you downloaded and if you liked them in the comment section below. Also be on the lookout for Septembers games with gold coming up soon. Thanks for reading and if you enjoyed this article please like it and let me know below!