Xbox Live Games With Gold for November 2018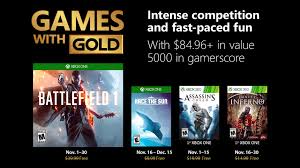 Another new month and another set of four free games Xbox lets you have for free if you have a gold membership. This month looks like we have some great games you can snag for free so lets take a look. The first game we have is Battlefield 1 for Xbox One, the second Xbox One game we are getting is Race the Sun. For our Xbox 360 games we receive this month we have Assassins Creed and Dante's Inferno.
Battlefield 1 is obviously going to take the cake for the best deal we are going to get this month. This game is only a year old and still sells for $39.99, I would assume it made the free list this month to promote Battlefield V being released mid-November. Battlefield 1 is an Xbox One X enhanced war game boasting dynamic and expansive maps that are just as fun to destroy as command and conquer. This game also has an intense campaign mode with stellar graphics and sound. Fight alongside your friends in battles up to 64 players for an all-out war that is an awesome time. I would highly recommend taking this opportunity for a free AAA title while you can. Go download it now!
The other Xbox One game you can download this month is Race the Sun, which next to Battlefield 1 is a little underwhelming. This game usually sells for $9.99. While this game is not a AAA title it does look like it will be worth a download, it seems to be a fun arcade style game with simple rules. You pilot a solar powered craft racing around objects, simply stay in the sun, don't slow down, and do not crash. You can pick up speed boosts that will also stop the sun from setting allowing you to get a higher score. If you enjoy fun simple arcade games that do not have a time commitment give this one a download.
Our first Xbox 360 game we will discuss is Assassins Creed, and yes, it is the first one so you get to enter the Animus for the first time again. This game still sells for $19.99 so it still is a pretty good deal for an Xbox 360 game. Relive the life of Altair mastering your skills as an Assassin and relive your first adventure brought to you by Abstergo. This seems to be another promotional game since a new Assassins Creed game was released recently. If you are feeling nostalgic go and give this a download.
The last game we will discuss is Dante's inferno which sells for $14.99. Travel as Dante through Hell fighting Bosses based on the Seven Deadly Sins. This is definitely not a family friendly game so don't play this with your kids. When I first played this game, I completed it in one night, the story is great and the gameplay was just as fun. If you are looking for a fun game to play that is solo player this one is definitely a good one to download.