Xbox Live Games With Gold For January 2019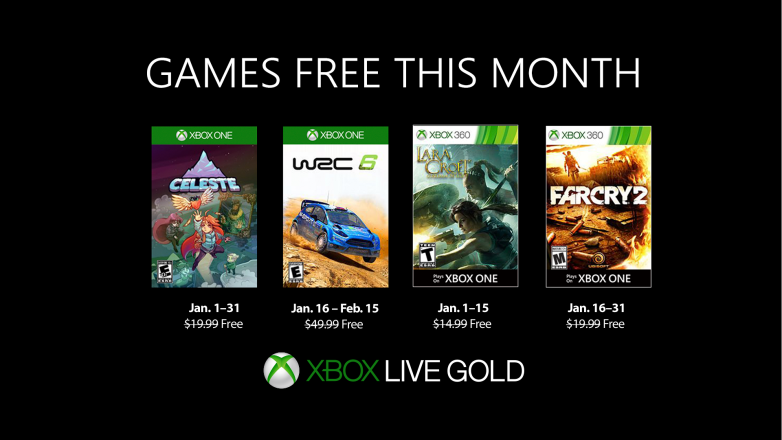 January is upon us, so once again it is time for four more free games courtesy of Microsoft. If you have Xbox Live Gold I think you will be happy with this months lineup. So lets jump into it, our first Xbox One game is called Celeste and retails for $19.99. On January 16 the second Xbox One game will be available for free, the title is WRC 6 and retails for $49.99. Our first Xbox 360 game we have for free is Lara Croft: Guardian of Light and this game retails for $14.99. The Xbox 360 game that becomes available on January 16 is Far Cry 2 which retails for $19.99. This month we are looking at around 95 dollars of free games.
The first game we will discuss is Celeste which is a narrative driven solo player adventure game that is rated E10+ for everyone ages 10 and up. I have never heard of this game but based upon the description it seems to be a simple story driven platformer with old-school style graphics. This game seems like a fun time for casual gamers who are not interested in multiplayer and who enjoy platformer style games. I personally will not be playing this game because I do not enjoy platformers very much. But since this game is rated E10 it could be fun as a family game, just take turns whenever someone dies!
The next game we will discuss boasts a nice 50 dollar savings, which automatically makes me interested in this game, WRC 6. Until this game was announced for Games with Gold I actually had not heard of it. This is the 6th edition of the FIA World Rally Championship series, which is a series of racing games. WRC 7 was recently released so I believe this game was added to this months list to build hype for the newest edition. Upon review of this game the graphics look amazing and it seems to be an awesome Rally racing game that I look forward to playing. This game is rated E for everyone, and supports both local and online multiplayer. This looks like a game that can be fun for literally anyone to play, and seeing as this game supports both local and online multiplayer it shouldn't be hard for you to find some friends to play with!
The first Xbox 360 game we have this month is Lara Croft: Guardian of Light (GOL) which is rated T for Teen. I am personally a huge fan of the Tomb Raider series as they incorporate fun action gameplay with puzzles. This game was also produced by Square Enix, who puts out some great games both visually and in playability. It does not seem that this game is in relation to the Tomb Raider series and appears to be just a fun side adventure quest for Lara. Interestingly this game is multiplayer and is the first Lara Croft game to have multiplayer support. I will definitely be downloading this and I look forward to seeing how this game plays.
The last game we have for this month is the Xbox 360 game that will be released halfway through the month which is Far Cry 2. Far Cry 2 is an open world FPS that is rated M for mature. The Far Cry series always puts out good games, and back when I played this I really enjoyed the game. This is not a kid friendly game but if you enjoy open world games or FPS' give this game a chance for sure. Even though this game is almost nine years old you will still be in for a good time.
This seems like a good month for gamers and I look forward to trying out WRC 6 and GOL for the first time. I will most likely be replaying Far Cry 2 for the nostalgia. Let me know what games you look forward to and any predictions you have for next months games in the comment section. Thanks for reading and see you next month!