Xbox Live Games with Gold for September 2018
It is another new month so you know what that means! Another month filled with four free games with your gold membership. This month has 4 games that I actually have never played or even heard of so lets check them out!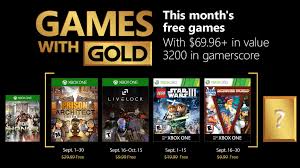 This month we are given almost $70.00 dollars in free games and the four titles are as follows: Prison Architect and Livelock on Xbox One and the 360 titles are LEGO Star Wars III: The Clone War's and Sega Vintage Collection: Monster World.
Lets start with the Xbox One titles shall we? The first title Prison Architect is a critically acclaimed title valued at $30.00, where you take control of a building and run a maximum-security prison. The game starts you off with small scale prison scenarios and slowly allows you to learn the ropes of the prisons as well as how to deal with any issues that may arise. Once you have the hang of things the mayor gives you your own prison to run any way you want. Want to be a ruthless warden or a benevolent one? That choice is yours.
This game actually looks like a lot of fun and I am downloading it as I write this article, I highly recommend downloading this if you enjoy Strategy style games. This game is rated M for Mature so keep that in mind while deciding to play it.
The next Xbox One title to be released will be Livelock which is valued at $9.99 and available September 16. This game is a top down co op shooter game that actually looks like fun and has some good graphics along with it too. Seeing as it is free I will be downloading this and try to play a few games with my friends. The game does not seem to be competitive, so it is not my cup of tea but if you enjoy just having fun with friends go ahead and download this one. This game is rated T for Teen.
The Lego Star Wars game is the first Xbox 360 title and is valued at $19.99, I personally do not care to much for Lego games but I am the minority. These games are great for families, couples, and friends alike. These games are definitely a fun stress-free environment if you are a casual gamer and are also a great way for families to all game together. The one thing I will say I am interested in this game is that it advertises that this one has massive ground battle and based on the in game pictures these fights actually look like they could be a lot of fun. Download this game for hours of family fun as this game is Rated E10 for everyone 10 and up.
The final Xbox 360 game to be released on September 16 is the Sega title which is valued at $9.99. This title actually includes three games which are: Wonder Boy in Monster Land, Wonder Boy in Monster World, and for the first time outside of Japan, Monster World IV. I have never played any of these games but if you are an old school Sega lover this download is definitely for you. This game is also rated E for everyone so it should be fun for the whole family.
That's all for this month so be on the lookout for what games with gold will be coming out next month. I may also do a gameplay review of the Prison Architect game as this seems like a good time so be on the lookout for that. Thanks for reading!